About Model Data
Model Data (Model File) is a Plain Text File.
Each lines of model data define Nodes, Elements (Rod, Hexa, etc.), Cases, Restraints, Forces, etc.
Elements are connected to other elements with Nodes. Restraints and Forces apply to Nodes.
For example, Model Data of next figure is like below.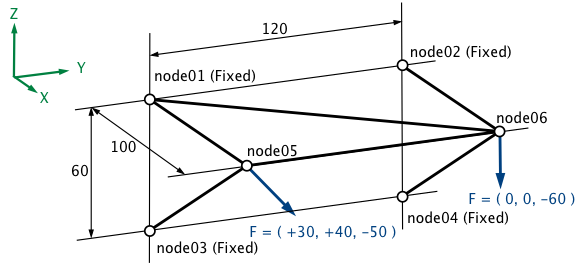 \ Analysis Cases Case , case01 , LINEAR_STATIC , restraint01 , force01 , \ Nodes Node , node01 , , 0.0 , 0.0 , 0.0 , Node , node02 , , 0.0 , 120.0 , 0.0 , Node , node03 , , 0.0 , 0.0 , -60.0 , Node , node04 , , 0.0 , 120.0 , -60.0 , Node , node05 , , 100.0 , 0.0 , 0.0 , Node , node06 , , 100.0 , 120.0 , 0.0 , \ Elements Rod , rod01 , rodProp01 , node01 , node05 , Rod , rod02 , rodProp01 , node02 , node06 , Rod , rod03 , rodProp01 , node03 , node05 , Rod , rod04 , rodProp01 , node04 , node06 , Rod , rod05 , rodProp01 , node05 , node06 , Rod , rod06 , rodProp01 , node01 , node06 , \ Element Property, Material RodProp , rodProp01 , material01 , 50.0 , Material , material01 , 7000.0 , 0.3 , \ Restraints FixNode , restraint01 , node01 , 1 , 1 , 1 , 0 , 0 , 0 , FixNode , restraint01 , node02 , 1 , 1 , 1 , 0 , 0 , 0 , FixNode , restraint01 , node03 , 1 , 1 , 1 , 0 , 0 , 0 , FixNode , restraint01 , node04 , 1 , 1 , 1 , 0 , 0 , 0 , \ Forces Force , force01 , node05 , , 30.0 , 40.0 , -50.0 , , , , Force , force01 , node06 , , 0.0 , 0.0 , -60.0 , , , , \ end